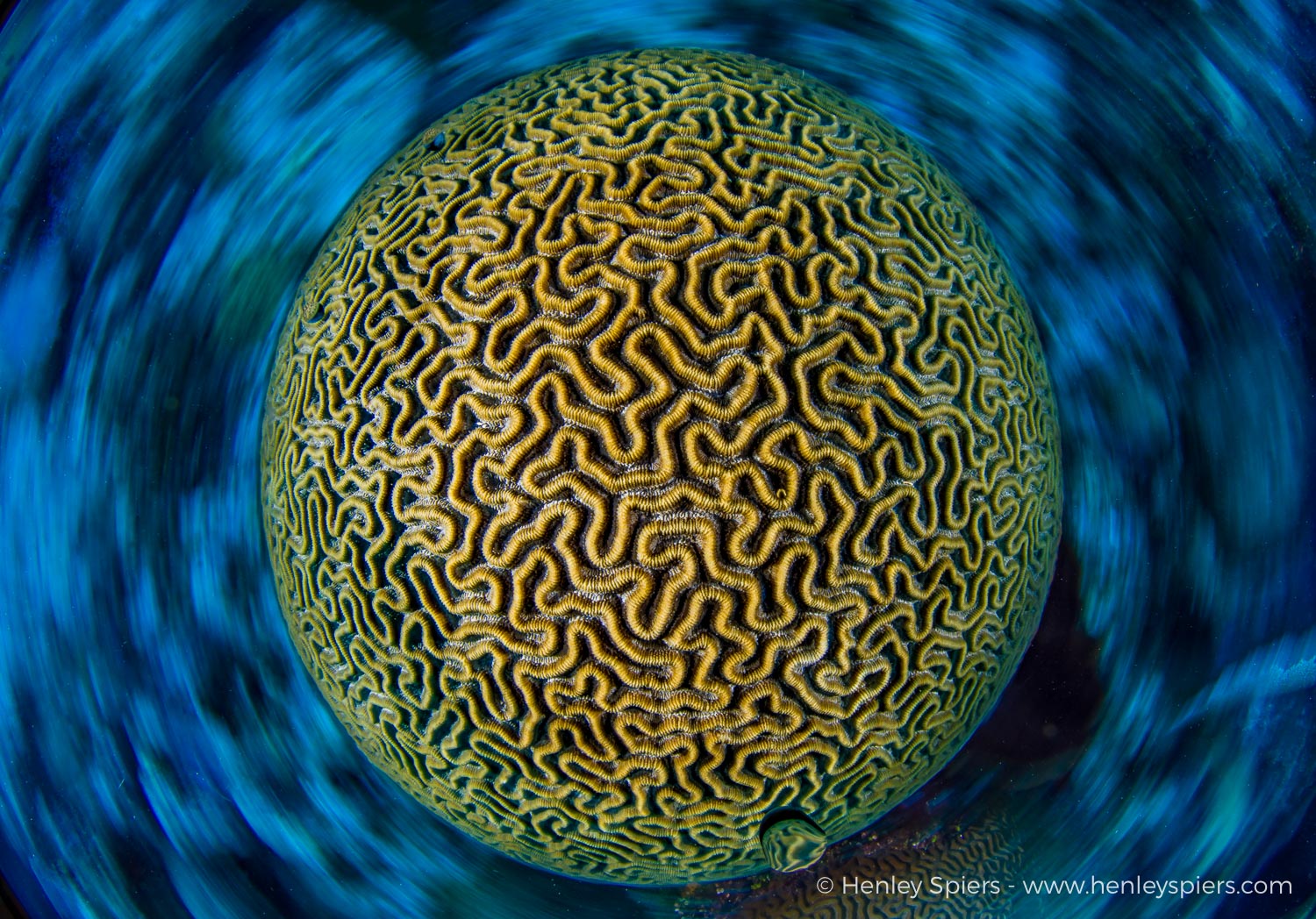 Between Two Worlds
A cormorant dives down on an unsuspecting shoal of fish below.
Gimme Shelter
The mass of sardines off the coast of Moalboal operate a 'safety in numbers' strategy whereby the school makes it much harder for predators to isolate a single target.
Brain Coral Planet
Using inward lighting, I was able to isolate this perfectly formed Brain Coral. There is great beauty to be found even in common underwater subjects and I am mesmerised by the textures and grooves of this hard coral.
Pair of Blues
Two beautiful, slender, and curious Blue Sharks off the coast of Cornwall during the British summer.
Mama Mantis
This Peacock Mantis Shrimp is draped in pink dress of her own eggs. With a punch that has the same power as bullet, she is more than capable of defending her offspring!
Thorny Seahorse
Elegant and yet awkward, Seahorses are extremely slow moving fish that blend in surprisingly well with their surroundings.
Saluting the Kittiwake
My dive buddy salutes at the bow of Grand Cayman's most famous wreck: the ex-USS Kittiwake. Decomissioned, auctioned and scuttled off the coast, this famous former submarine rescue vessel was once upon a time responsible for rescuing the black box from the tragic Challenger space ship explosion.
Three Amigos
Three False Clown Anemonefish group together in their balled-up anemone. Motion blur created by zooming during the exposure.
He's Behind You!
A False Clown Anemonefish (better known as Nemo) looks a little concerned by the looming presence of a Great Barracuda.
Shrimp Rider
A Shrimp sits astride its home anemone, look closely and you can see the eggs in its abdomen!
Turtle at Peace
A well-policed marine reserve in Tubbataha has created a pristine marine environment where creatures such as this Green Turtle can thrive without human interference.
Picasso
A Picasso Triggerfish swims fast at the camera in a bid to defend its territory from potential intruders.
Turtle Sunburst
Green Turtles are protected off the shores of Apo Island in the Philippines and are thriving as a result.
Duelling Tompot Blennies
Sporting the vivacious colours of mating season, these two Tompot Blennies are engaged in a battle for courtship rights!
Ocean Coral Reef Scene
One of the great things about underwater photography is how you can bring out the natural colours of the reef using your strobes.
All Hail the Cuttlefish
Possessing both brains and looks, the cuttlefish is one of the superstars of the underwater scene and uses colour changes as part of its communication.
Two Sharks
The Grey Reef Shark is the big daddy of the reef. The biggest of the reef sharks, they are at the apex of the food chain and, appropriately, they swim around like a boss. I love their shape and was surprised to find they have a beautiful bronze colour to them once you splash a bit of light on their bodies!
The Safest Place
Look closely and you can see the eggs in this jawfish's mouth have developed eyes and are almost ready to be released.
Through the Eye of the Cardinal
A Cardinalfish with a fresh batch of pink eggs quickly shuffles them whilst swimming to ensure they are all kept well oxygenated.
Pipehorse
Pipehorses are a cross between seahorses and pipefish and come in a tiny, well camouflaged package.
White Tip
Once abundant, Oceanic White Tip Sharks are now an endangered species due to over-fishing. Egypt is one of the few places in the world where divers can regularly see these majestic creatures.
Spinning Anemone
A different take on a familiar subject, slow shutter speed and camera rotation give us this spinning anemone with a False Clownfish at the centre!
Golden Roughead on Blue
A teeny tiny Golden Roughead Blenny is framed against the blue water of the Cayman Islands.
Disco Shaun
Framed against a colourful 'disco' background, this minute nudibranch is commonly know as the Shaun the Sheep nudi and is about the size of a grain of rice!
Stargazer
One of the scariest looking fish in the sea. This lie-in-wait predator hides the bulk of his body in the sand and has a specially evolved, upward facing mouth.
Elegant Bumphead
With a brutish forehead designed to break coral, Bumphead Parrotfish are not usually associated with good looks. However, shot for below and with a coquettish pectoral fin held out, this one has managed to strike an unusually elegant pose!
Turtle & Passengers
An imposing Green Turtle crosses the Red Sea with a pair of Remora stuck to its belly. Their relationship is mutually beneficial: the remoras remove parasites from the turtle and in return get to feed on the host's faeces!
Serene Stingray Scene
A serene early morning scene as a Southern Stingray swoops over the sand at Stingray City.
Protective Jellyfish
Juvenile and small fish often take shelter in and around jellyfish as the jelly's stinging tentacles provide a form of shelter from predators. However, the small fish you see in this image isn't immune to the stings either, and so whilst using the jelly for protection must be constantly alert and make sure it swims in just the right position!
Papa Goby's Watch
As is often the case in the marine world, it is the male goby who takes on the responsibility of looking after the fertilised eggs. Carefully laid on this delicate tunicate, papa goby will not leave their side until hatching.
Pygmy Goby Couple
This Yellow Pygmy Goby couple live full time on this shell. Endlessly swimming in synchronisation around their tiny home, they never seem to get bored.
Jaws
Up close and personal with a Dusky Jawfish mouth brooding some rather mature looking eggs - check out the eyes on each one!
Jawfish Shuffle
One of the most spectacular underwater sights, a male Dusky Jawfish shuffles his eggs in a process that takes a split second.
Golden Roughead
This Golden Rough Head Blenny may look rather fierce, but in reality he's harmless and smaller than the nail on your little finger!
Medusa Blenny
The rare and rather stunning Medusa Blenny peers out from its home.
Thresher Shark & Alex
Painfully early wake-ups are required to see the Thresher Sharks come up for cleaning at Monad Shoal in the Philippines.
Harley Queen
In my eyes one of the top 3 most attractive shrimp in the world, Harlequin Shrimp live in pairs and live on a steady diet of Sea Stars.
Malcolm & the Squid
My friend and dive buddy Malcolm excitedly checks out a Caribbean Reef Squid at the start of our night dive.
Nemo at Sunset
As the sun starts to set, these Clownfish continue to defend their balled-up anemone home.
Jade in Tubbataha
Jade explores Tubbataha's magnificently healthy reefs along with her underwater camera.
Spinyhead Blenny on Pink
Call me weird if you like but it's a very tight call as to whether I'd rather see a characterful blenny or a shark on a dive. This here is the Spinyhead Blenny, found in abundance in Saint Lucia and always willing to pose.
Nemo in motion
Nemo (aka False Clownfish) never seem to stay still, a slow shutter speed captures the movement of both the fish and swaying anemone.
Turtle Back Ride
Looking down at the stunning shell of a Green Turtle as it swims over the reef.
Hell Crab
This devilish-looking Yellowline Arrow Crab looks like he's guarding the gates of hell!
Squid in the Sun
Squid live fast and die young, these two were enjoying their moment under the sun in the shallows at Anse Chastenet.
Scarfaced Blue
The curious nature of Blue Sharks combined with their open ocean lifestyle often brings them into trouble when facing the human presence at sea, often with deadly consequences (for the shark). This individual is still swimming but heavily scarred.
Ribbon Eel
Many marine animals will undergo a gender transformation during their lifetime, unusually however, the Ribbon Eel will start its life as a male (with distinctive blue and yellow colouring) and then transition into a lady if it survives long enough (all yellow colouring).
X Ray Seahorse
Backlighting translucent fish gives them a personality and style makeover, for instance, this Thorny Seahorse is suddenly looking a little bit evil!
Tiger Tiger
The epitome of compact beauty, a Tiger Shrimp poses on a patch of green coral.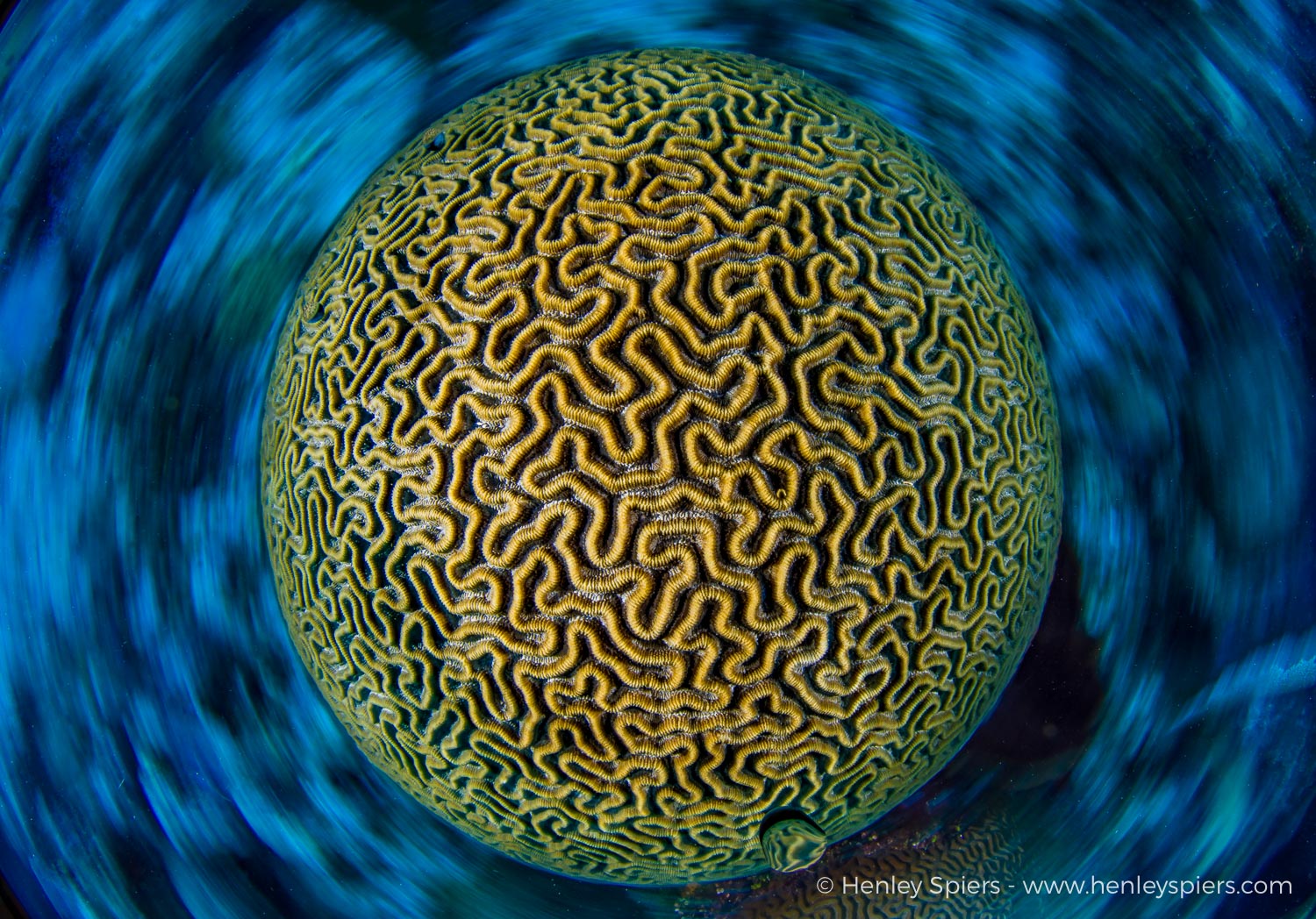 Brain in a Spin
A simple subject, Brain Coral, highlighted using inward lighting and camera rotation - pretty cool!
Shark in Motion
A Caribbean Reef Shark in feeding mode rushes by me on a dive off Grand Cayman.
Dream Dive
Everything came together nicely for this shoot: dream model, schooling Boga and Brown Chromis, and a good-looking wreck bum.
Terminator Fish
The Leaf Scorpionfish is a lie-in wait predator with a slim body and upturned mouth. Part of its camouflage is its ability to gently sway to and fro, with the movement of the water, like a leaf!
Clasp
Two feather duster worms side-by-side create this interesting, clasped, venus fly trap style shape.
Towering Jacks
The resident school of jacks is a testament to the wrong conservation measures put in place at the Shangri La marine sanctuary in Mactan.
Spider Crab Attack
A fierce Spider Crab leaps up onto its hind legs and swipes its claws at the camera. Motion blur captured by using a slow shutter speed.
Celestial Jellyfish
A jellyfish is backlit by the early morning sunshine during the British summer.
Squid Eye
The eye of this Reef Squid is isolated using super shallow depth of field.